New Orleans
Sorry it's been a while. I have a litany of excuses for not keeping you up to date, but… after all, they are excuses.
Last week Nora and I decided to take advantage of the three-day weekend and drove to New Orleans to hang out in the French Quarter. I can think of few places that epitomize the concept of "melting pot" as distinctively as New Orleans. Over the centuries, a mix of cultures as far-flung as France and Africa simmered in the swamps of the Mississippi delta for centuries and created something utterly unique. There is a certain sultry earthiness about New Orleans, at once historic and modern, graceful yet grimy.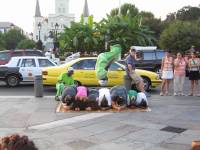 Here you can enjoy beignets in Café du Monde, open since 1862, or see a troupe of hip-hop dancers performing on the roadside. These men, our generation's incarnation of the tap-dancer, illustrate the modern twists on old themes that make up so much of the New Orleans experience. In this picture, one of the dancers lined up people from the audience and did a back-flip over all of them.
I could go on for pages about New Orleans and the adventures that await its visitors. The voodoo shops, jazz bars, carriage rides and paddleboats all contribute to an experience as distinctive as jambalaya and as spicy as boudain. Incidentally, they serve to-go alcoholic beverages, something illegal in Texas. You can walk up to a window and buy beer or a hurricane and carry it down the street.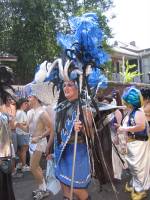 Now as it turns out, every year for Labor Day the gay community converges on Bourbon Street for a Mardi Gras-type party and parade called Southern Decadence. People come from all over the country to attend. It's like a pilgrimage, really, only with drag queens and rainbow beads. Of course we had to go check it out. One of my friends in law school gave me a hard time about this when I got back, suggesting my brush with Southern Decadence might herald a change in lifestyle choices. I explained to her that hanging out with her blonde friend won't make her a blonde. Anyway.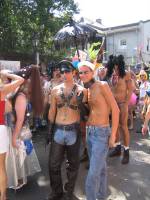 The police had blocked off a section of the street to keep the cars out. At this threshold stood four protesters. These men had taken it upon themselves to spread God's love to the gay community with signs like "God Abhors You" and "The Wages of Sin is Death." Some of the guys were posing in front of the protesters to have their pictures taken, and during the parade one sign read, "If we're all going to Hell in a handbasket, be sure your handbasket matches your shoes!" I must admit I'm charmed by the plucky, upbeat way they shrug off the ignorant intolerance of others. I don't know if I could be so gracious. After a while, one the partygoers had heard enough. He grabbed the protester's megaphone and poured Evian into it. Everyone cheered.
In the evening we took a riverboat cruise down the Mississippi. I thought about my ancestor Thomas Court, who came to the US from England in the 1820s. We believe he came in through New Orleans, and I wondered what he would have seen and felt as the ship approached the city on those same waters some 175 years before.
By Monday we were exhausted from wandering about the Quarter and ready to come home. We abandoned our plan to visit the aquarium or the casinos and simply headed back to Houston. All in all, a fun experience and good break from the rigors of work, law school, and the Law Review!